Here's another campfire type story that brings back fond bass fishing memories for me, one of a big bass caught while finesse fishing on a rather small lure. Only this big bass wasn't caught by me, rather, it was caught by my fishing pal, Captain Steve Kelley.
It was early spring, near the end of March. Cloudy skies, light winds, air temperatures in the upper fifties, and water temperatures in the low fifties were ideal conditions to catch pre-spawn big bass. Water visibility was about two feet, which was really good for such a windy month. We started out fishing with a moving incoming tide in our favor.
Recently, in previous trips, we'd done well casting lipless crankbaits, and we expected similar results on this trip. Basically, the hot pattern at the time was to find emerging weedbeds, cast out a crankback, and as you reeled it in, tick the tops of the weeds with it. Often, if you lighly snagged a weed during the retrieve and jerked the crankbait off it, you'd provoke a bass to strike. Lipless crankbaits work great with this method.
Click Here for more info on fishing lipless crankbaits and fishing this weed pattern.
We reached our first location of the day around mid morning, a cove at the mouth of a creek that had a fair amount of sunken wood and plenty of fallen timber along the bank. The bottom consisted of pea gravel along the bank, and a muddy bottom out toward the middle of the cove. Bass consistently spawn in this cove, so we felt that was a great reason to start there for the day. This cove usually had a fair amount of weeds, so we thought that the crankbait pattern be the perfect method.
However, the fish had other plans for us, at least at this spot, at that particular time. Steve finally hooked up on his first largemouth, an eighteen incher, after about a half hour cruising the cove on a crankbait. I picked up a couple of punk fish, but the bite wasn't as fast and furious as it had been during previous trips. For some reason, the weeds hadn't grown as they had in the past at this spot.
Sometimes, when things are slow in the cove, it often winds up being better fishing inside the creek. We fished our way into the creek. As we entered the creek, Steve commented that he often caught fish on plastic worms off one of the points. At the tip of this point, there was a log that created a small current break during an incoming tide. Steve picked up his rod, rigged with light weight, a light wire hook, and four inch green pumpkin ringworm, and pitched his worm perfectly into the eddy created by the log. Almost immediately, he yelled, "Fish! It's a good one!"
After hearing that, I reeled in my lure and grabbed the net. The current swept us further into the creek as Steve battled the fish on eight pound fluorocarbon line spooled on a medium light action spinning rod and reel combo. As the fish neared the boat, I had the net in the water at the ready, but the fish saw the net, and took off for a run. At this point, neither of us got a good look at her.
It peeled off a little line, and then Steve worked her back in. After a few head shakes under the boat, Steve brought the fish out from under the boat and I eased the net underneath her. This fish was a fat girl for sure. After I netted her and took pictures, Steve placed her on the measuring board and she went twenty one and a half inches long. We didn't have a scale, but I'd guess, based on her girth, that she weighed about six pounds, perhaps a little more. At the time, this was Steve's personal best tidal river bass. What a beast!
Steve's twenty and a half inch personal best tidal river largemouth bass inhaled a four inch finesse worm!
In recent blog posts, I posted stories about big bass caught on big lures, and that is such a true saying worth repeating. But, this bass was caught on a finesse style worm, texas rigged fished with a light bullet sinker on light line. It wasn't a new pattern for either of us, as this rig has caught lots of fish, for both of us. And, I personally have caught several five pound or better fish on this rig. It's productive. During a tough bite, you can't beat it. But, this fish was caught finessing on a day when the crankbait bite should have been king, and at the end of the day, it was.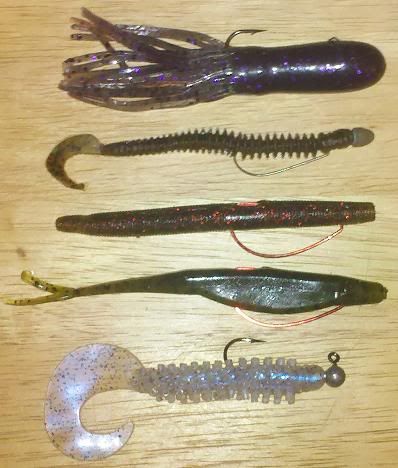 Pictured here are a few productive finesse soft plastic lures. The second lure from the top, a four inch green pumpkin ringworm, fished with a light wire hook, and a light 1/16 ounce bullet sinker on eight pound line caught Steve's lunker fish.
After that fish, we moved to another spot with a good weedbed, where the fish really turned on to the lipless crankbait pattern. I don't remember if he caught any more on a worm, but, it's tough to finesse fish when your boat partner is cranking in big fish and covering water. In other words, when the crankbait bite is on, it's a tough choice to put that lure down. Let's face it, lures like that cover a lot of water, and when they're hot, you can really rack up the numbers of good fish in a hurry.

We fished into the early afternoon and then he had to be off the water for a family function. Steve finished with fifteen bass, all of the over three pounds, including his personal best fish. I had a great day as well, finishing with sixteen bass, including nineteen incher and several in the seventeen to eighteen inch range, along with a couple fifteen inch fish.
I had a good day as well, as I caught good numbers of bass, including this nineteen incher.
What made this day memorable, other than fishing with a good friend, and other than the fact that we caught good numbers of nice sized bass in a short amount of time, was that I got to experience my fishing pal catch his personal best tidal river largemouth bass. It was my honor to net and photograph this fish. I can't wait to do the same when he catches his next personal best bass, if I'm lucky enough to be there when he does!